You hear the word disaster and what comes to mind, Floods, Earthquakes maybe? When we say disaster yes are speaking of your preparedness for such events, but also, we are speaking of an IT disaster whether caused by a natural disaster, a power outage, a server crash or so on. Now ask any 12-year-old kid holding an iPad and they would surely agree that an outage is a major disaster.
We live in world with so much technology at our finger tips, its often quite easy to take it for granted. For our jobs we use computers and tablets and iPhones and servers and wireless and firewalls (well we hope so) and security and list goes on.  But what would happen if your server crashed or you suddenly didn't have access to the things you needed to do your job. What would you do? Would you have a plan in place to protect your historical data and ensure you could get up and running as quickly as possible?
You might answer no to that, and you wouldn't be alone. A large portion of companies don't have a disaster plan or recovery plan in place should the worst happen. The team here at MEX have spent months tirelessly investigating and implementing a solid Data Hosting disaster recovery plan to ensure our customers systems are safe, secure and still accessible in the event of disaster.
MEX is well aware that not all our customers have the capacity or desire to host their system internally and shoulder the IT costs and security burden. To help out our customers we offer a Data Hosting service that utilises the worlds most trusted hosting provider, Microsoft Azure. This platform is used by 90% of the fortune 500 companies, so you know they are doing a few things right.
Database Replication
Our Disaster Recovery plan involves constant Database Replication between two servers that will go live if the main box goes down. This means that you will always have access to the most recent data you have saved. On top of this replication, we take constant backups of each and every database that we host, further securing your information.
Reduced Server Load Strategies
Also in place are reduced sever load strategies that are designed to increase speed, security and efficiency. This involves capping the number of customers we host on each server to a maximum of 50 customers. Ensuring that the resources of the high-powered servers we employ are evenly distributed amongst this manageable set of customers, resulting in faster and more reliable access for you the customers.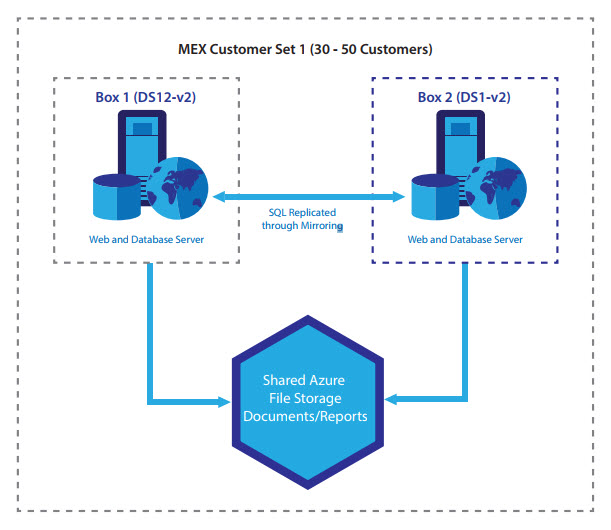 Setup of a typical shared hosted box
When you host your data with MEX you also experience seamless upgrades, reduced costs, word wide access and simplified support owing to MEX having simple access to your system to see what's wrong.
Get a quote or test out our data hosting services with the form below.