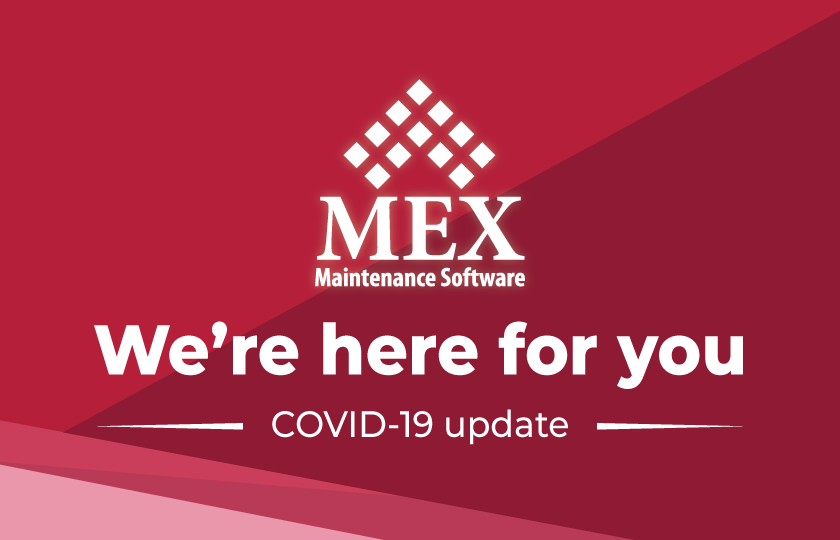 As we adjust to life with COVID-19 restrictions in place, some businesses around the world have been hit hard. With many businesses being forced to close their doors, there are others who have surprisingly flourished.
For MEX, we are fortunate to be in the maintenance industry where keeping Assets running or in a good working order is of utmost importance, especially during a recession when budgets are cut and expenses are scrutinised. Instead of purchasing new Assets or Equipment, our customers are looking to maintain what they already have. This is where MEX comes into play and over the last few months we have fared quite well.
The success of the MEX system is fuelled by a world looking for alternative ways of working during hard times. Maintenance becomes a secret weapon for companies who want to survive and accelerate their way out of economic downfalls. With MEX, maintenance strategies can be fine-tuned and risks reduced by keeping Assets healthy.
While travel restrictions and social distancing measures are in place, the MEX Team has had to also find new ways of working. We launched the option to run Training and Consulting Services Online, where our customers can be trained from anywhere. Many MEX customers have already made the most of this option and improved their skills in MEX by attending one of our Online Public Training Courses.
Our Data Hosting Service has enabled our customers to continue operating seamlessly throughout this unprecedented crisis. With many staff forced to work from home, the MEX Hosted Solution has allowed them to securely access their systems through their home broadband and with their own device. The MEX cloud has been absolutely essential where our Hosted Customers didn't have to worry about scaling up their hardware or bandwidth. Their systems were accessed easily with a simple http link.
We have also taken this time to further improve the MEX Software and are proud to announce that a new version has been released, ready for a whole new range of Apps that are in the final stages of development. Stay tuned.
The MEX team is here to help you, as we all work together to maintain safe workplaces free from hazards and COVID-19!
Thank you for your ongoing support!