We have chosen to work with Zoom alongside the new MEX Training Portal located inside the existing MEX User Portal. This resource provides training participants with all the details related to their course, main ones being the MEX and MEX Ops training links, the course manual and the Zoom Link.
When the Start Training Button is clicked, the MEX Training links also open. However, with the Zoom link, Chrome may have a pop-up blocker in place so just watch out for this on the right-hand side of the address bar.

Simply click the icon with the red x on it and allow Zoom to show the pop-up required to get you into the Zoom session.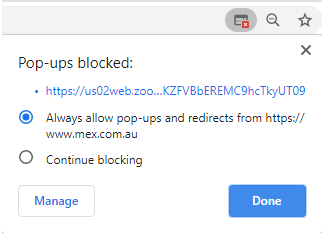 You can now continue with your Online Training.
If you have any issues please contact our training team at training@mex.com.au