2020 will go down in history as the year that changed the way we do things.
For some industries, levels are running at an all-time high where others sit idle. Hospitals, Aged Care facilities and anything medical are working on our frontline, with staff working around the clock to save lives and prevent the further spread of the virus. At the same time health facilities and equipment are running 24/7. Putting the upkeep of these assets on a pedestal, and forcing maintenance teams to rethink the way they do things.
As food flies off the shelves in the shops, warehouses and logistics companies work around the clock to deliver goods on time and around COVID restrictions. The hospitality and tourism industry on the other hand are on their knees, praying that COVID exits as swiftly as it entered our lives.
Both scenarios throwing up challenges for all types of companies, in how to best keep their facilities and equipment that are in use operating effectively, and those that sit idle in good condition. On top of that, how to ensure COVID SAFE plans are also incorporated in the way they do maintenance going into the future.
The MEX CMMS provides you with the tools on how to ensure maintenance is done on time. Here are some tips to help your operation use MEX to maintain a safe working environment and stay ahead:
Promote a Safe and Clean Workplace
First and foremost, COVID has highlighted to us that cleanliness is paramount. Safe and clean workplaces must have a foundation, and incorporating protocols as part of your maintenance procedures can help you achieve this.
Remind your staff in the Work Order safety notes to maintain social distancing, sanitise work stations or equipment surfaces that have been recently used.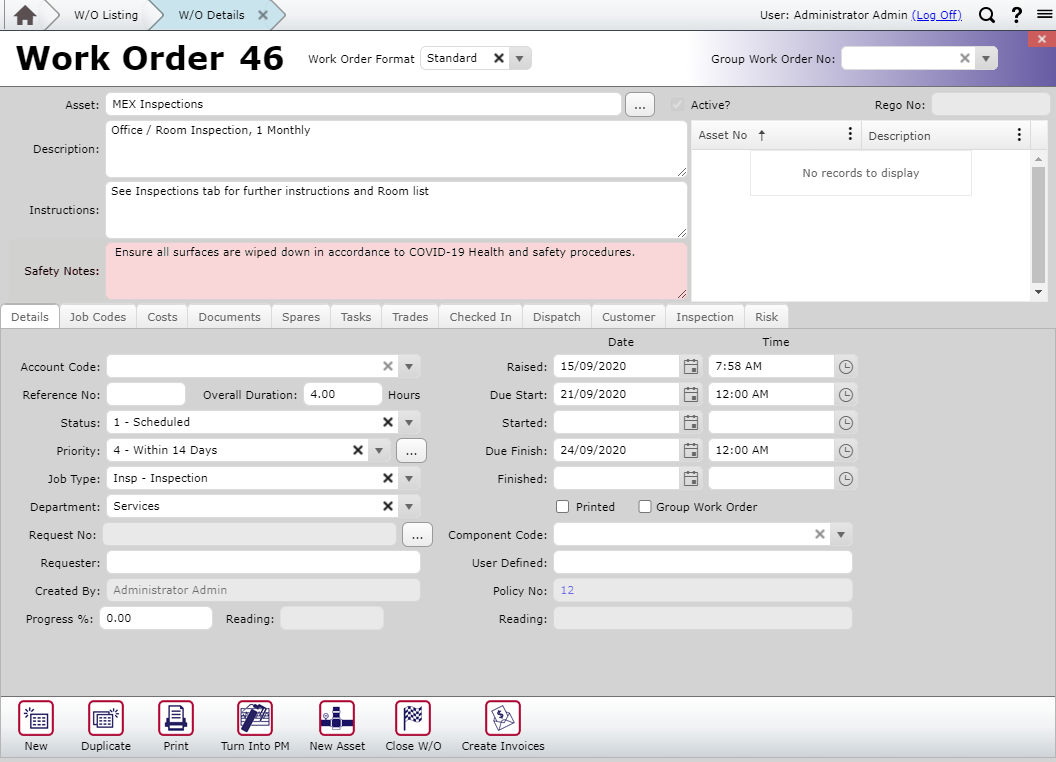 If you have any safety procedures, guidelines or equipment manuals that need to be adhered to, add these documents to the Assets details so that they can be loaded onto Work Orders and associated PM Schedules.

Keep a Eye on your Expenditure
As budgets tighten, having clear reports on where you are at with your maintenance spend can be key to ensuring your business can run efficiently. MEX has a wide number of Reports and KPIs at your disposal to track this, but it's only as good as the data available to it.
Now is a good time to go through and make sure trade rates and catalogue item pricing are entered correctly. That way when they are used in MEX, costs are more accurately tracked.


Changing Trade Rates in MEX
Smarter Inventory Control
Managing spare parts inventory has now become critical with the challenges generated by COVID. Some parts have now become harder to get and wait times have dragged out with the delivery network handicapped.
Take a fresh look at your spare parts and make sure that critical parts are in stock. Take a look at your current suppliers and look at building resilience by adapting a wider supply chain.
Adjust minimum stock levels in MEX and carry out a critical spare part stocktake on a more regular basis.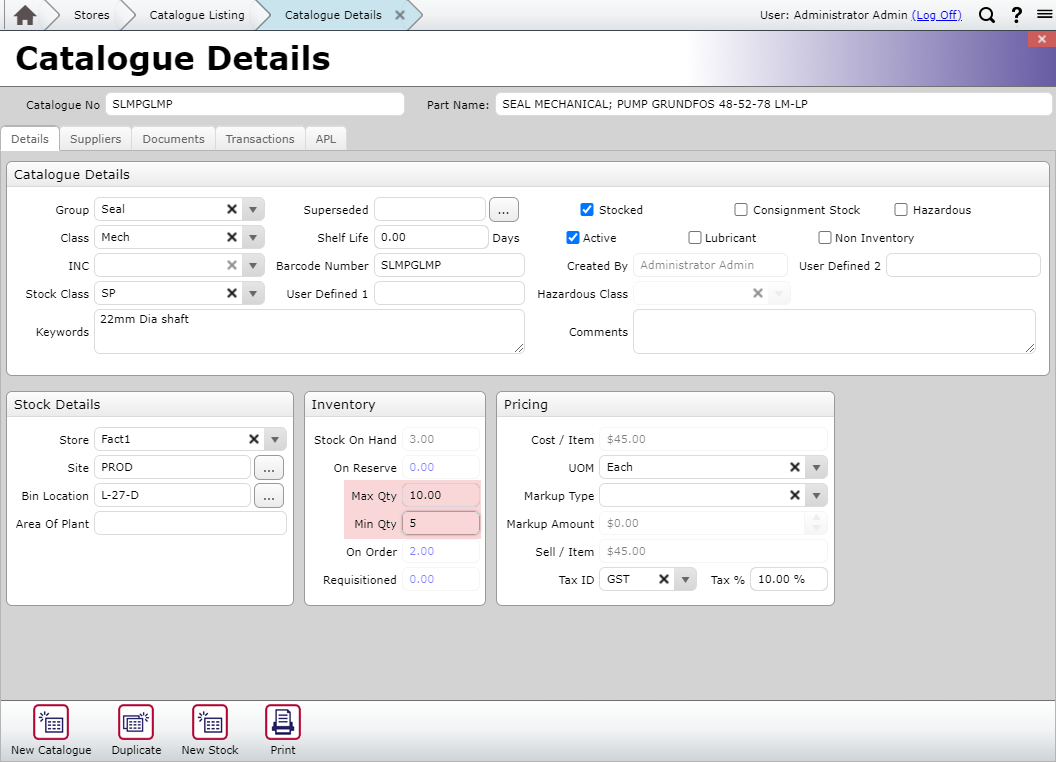 Adjust catalogue items minimum stock levels
Get Refresher Training
There is no better time than now, to get skilled up and better understand the tools at your disposal!
It's not too late to book in a date, with travel restrictions still in place, our Online Training platform can help get your team up to date on the most important aspects of MEX.
With a brand-new Online Training Portal, Online Training can give you the refresher you are after or for new users, get them off the ground and running – the right way.
If it's a health check that you are after, we can help too! Bring a new set of eyes with MEX expertise to help you get the most out of your MEX System.
Ensure you can work remotely
With social distancing measures now in place to various degrees all around the country, more and more people who can carry their roles remotely are working from home.
Having the ability to work remotely is paramount to keeping your operation running and MEX Data Hosting gives you the tools to monitor your maintenance at all times. Prioritise requests and create work orders for your team on the ground to continue to keep your assets operational.
If you are interested in Jumping on MEX Hosting, contact us today at info@mex.com.au
Stay Safe and Keep Maintaining!